Listen to these classic radio broadcasts from the golden age of radio to honor America's veterans for their patriotism, love of country, and willingness to serve and sacrifice for the common good.
Part 2:

Command Performance Victory Celebration Part 1 and Part 2
Enjoy this two-hour extravaganza broadcast of Command Performance which marks the end of WW2. Hosted by Bing Crosby, this program begins with a prayer by Ronald Colman. Appearances are made by an all star cast including Rise Stevens, Dinah Shore, Bette Davis, Jimmy Durante, Jose Iturbi, Lionel Barrymore, Marlene Dietrich, Burgess Meredith, Ginny Simms, Frank Sinatra, Janet Blair, William Powell, Harry Von Zell, Lucille Ball, The King Sisters, Cary Grant, Robert Montgomery, Loretta Young, Lena Horne, Meredith Willson, Thomas Lewis (Commandant of the AFRS), Martha Wilkerson (who mentions G.I. Jive), Johnny Mercer, Edward G. Robinson, Orson Welles, Lina Romay, Danny Kaye, Herbert Marshall, Carmen Miranda, Claudette Colbert, Ed Gardner, Marilyn Maxwell, and Greer Garson. Cameos include Rita Hayworth, Desi Arnaz , Ernest Whitman, Ida Lupino, Ginger Rogers, Ruth Hussey, Claire Trevor, Don Wilson, Norman Mauldin, George Montgomery, John Conte, and Jinx Falkenburg.

Walk in the Sun (August 8, 1944)
Enjoy this classic broadcst about an American platoon on assignment in Italy. Narrated by Frank Lovejoy and starring Everett Sloane, Larry Haines, Ted Jewett, Jack Manning, Owen Jordan , Everett Sloane, Staats Cotsworth, Ken Lynch, and Warren Parker.


Four Went Home (December 14, 1952)
Four soldiers attempt to escape from a Nazi prison camp as the war comes to an end. Starring William Conrad as "Sergeant Meston", Bob Sweeney, and John Dehner.

"Fourteen August" End of War Special (August 14, 1945)
Don't miss Orson Welles in this dramatic anti-war broadcast. Written in short notice by Norman Corwin after the detonation of the atomic bombs and the surrender of Japan.
Why Did They Serve?
Donning a Military Uniform implies a willingness to make a great sacrifice, possibly the ultimate sacrifice with your life, so why would anyone be willing to do it?
The military provides a relatively low but dependable paycheck. The serviceman may not be able to afford the nicest things, but he usually will not need to worry about housing or groceries, these are provided by the Government. He does not have to keep up with the latest fashion, Uncle Sam tells him what uniform to wear on any occasion.
There is also the lure of adventure in signing up for Military Service. "Join up and see the World" is a promise heard in Recruiting Depots across the land. The Recruiter may forget to mention that it should not imply a first-class ticket to the most scenic destinations, but don't tell that to the starry-eyed farm boy who has never seen the ocean.
One reason that probably won't pop up to join the Military is to become a Radio Star, although this was what happened for many of the folks on the list below. Many of them did find Stardom after their time in uniform, but a surprisingly large number of them chose to serve even though they already had Showbiz success.
This brings us to the most likely reason that a member of the Greatest Generation would raise their hand at the induction center; simple Patriotism. This notion can seem a little bit nuts to recruits in the modern era who show up at the recruiting office more interested in what the Service can do for them than what they can do for the Service.
Of the more than 16 Million Americans who served during WW2, well over half were Draftees rather than Volunteers. For many, the only way to avoid being drafted into the Army was to volunteer for the Navy! Millions answered Uncle Sam's call to end tyranny and defend not only our nation, but to protect human lives around the world.
Only some of the people who donned the uniform would actually see combat or even get close to the fighting. But when they raised their hands to take the Oath of Enlistment, there was always the implication that they might be called upon to sacrifice their lives for the Nation's cause. There is honor in signing up to possibly sacrifice your life for the others and for your country.
Of course, the Recruit, the Service, and the Nation as a whole will do all that they can to see to it that such a deep Sacrifice will need not be made. Dying for one's country, noble as it sounds, is not as useful as living to defeat the enemy. However, the Serviceman has sworn that if called to do so, he will lay down his life for the Nation.
This is why we go out of our way to thank Veterans for their service. It is not something that most Vets go out of their way for and some are often embarrassed when Civilians mention it. Nonetheless, we are obligated to do so for the sacrifices they made. We would like to thank servicemen and women on Veterans Day and everyday for doing their part to keep the world safe, free, and just.
Old Time Radio Stars who were also Military Veterans
| Name | Service |
| --- | --- |
| Art Baker | WWI, Army |
| Arthur Godfrey | Navy, CoastGuard, InterWar |
| Audie Murphy | WW2, Army, "The most decorated soldier of WW2" |
| Ben Gage | WW2, USAAF, SSgt |
| Bob Hope | USO, "Honorary Vet" |
| Brian Donlevy | NatGuard, Chased Villa, WWI Pilot |
| Burgess Meredith | USAAF, WW2, Capt |
| Burt Lancaster | WW2, Army, 21st Special Services Division |
| Charlton Heston | USAAF, SSgt, B-25 Radio Operator/Gunner |
| David Niven | British Army, officer, Commando |
| David Rose | WW2, Army, Special Services |
| Don Knotts | WW2, Army, Special Services, Pacific Theater |
| Douglas Fairbanks, Jr. | WW2, Navy "Beachjumper" |
| Eddie Albert | USNR Lt, awarded the Bronze Star for his actions as a landing craft pilot rescuing marines at Tarawa |
| Eddie Fisher | Korea, Army, United States Army Band Chorus |
| Edmond O'Brien | USAAF, appeared in the Air Forces' Broadway play Winged Victory by Moss Hart |
| Frank Capra | WWI, Artillery Instructor, WW2 Army Signal Corps |
| Fredric March | WWI, Lieutenant of Artillery |
| Gene Autry | USAAF, as a C-109 transport pilot flying the "Hump" in Burma |
| Gene Roddenberry | USAAF, B-17 pilot in the Pacific Theater |
| George Washington | Led the Continental Army |
| Gerald Mohr | WW2, USAAF, 3years service |
| Gordon MacRae | WW2, USAAF, Bombadier Instructor |
| Henry Fonda | WW2, Navy, QM3 on the USS Satterlee |
| Herbert Marshall | WWI, injured in Second Battle of Arras in France |
| Howard Duff | WW2 Army Air Corps AFRS Division |
| Humphrey Bogart | WWI, injured aboard USS Leviathan |
| Jack Benny | WWI, Navy, played violin to entertain his shipmates |
| Jack Webb | WW2, USAAF, "washed out" of flight chool |
| Jackie Coogan | WW2. USAAF, Glider pilot |
| Jeff Chandler | WW2, Army Lt in the Aleutians |
| Jimmy Stewart | WW2, USAAF, B-24 Pilot, remained in Air Force Reserve until 1968 |
| John Dehner | |
| Johnny Carson | WW2, Navy, ENS aboard USS Pennsylvania |
| Kirk Douglas | WW2, Navy, COMMO aboard subchasr PC-1139 |
| Lawrence Dobkin | WW2, assigned to a radio propaganda unit with the Army Air Corp |
| Larry Storch | WW2 Navy, enlisted, served aboard USS Proteus |
| Lee Marvin | WW2, USMC, wounded at the Battle of Saipan |
| Les Damon | WW2, USAAF, TSgt broadcasting on AFRN in Burma |
| Leslie Howard | WWI, served with the 3/1st Northamptonshire Yeomanry, medically discharged |
| Mario Lanza | WW2, USAAF Special Services |
| Maurice Chevalier | WWI, French Army, held as POW by Germans |
| Nelson Olmstead | WW2, Army, broadcasting for AFRS in Italy |
| Phil Baker | WWI, US Navy |
| Phil Harris | WW2, US Navy |
| Randolph Scott | WWI, Army Artillery observer |
| Richard Boone | WW2, Navy, tail gunner in Avenger Torpedo bombers |
| Richard Burton | WW2, Royal Air Force pilot |
| Richard Crenna | WW2, Amy, Infantry Radioman, saw action at thr Battle of the Bulge |
| Richard Denning | WW2, Navy, Submariner |
| Richard Greene | WW2, British Army, 27th Lancers |
| Robert Montgomery | WW2,Navy, PT Bost Skipper |
| Rock Hudson | WW2, Navy aircraft mechanic |
| Roland Young | WWI, US Army |
| Ronald Colman | WWI, London Scottish Regiment |
| Ronald Reagan | WW2, 1st Motion Picture Unit in Culver City, California |
| Spencer Tracy | WWI, US Navy |
| Steve Lawrence | Vietnam Era, The United States Army Band "Pershing's Own" in Washington, D.C. |
| Stewart Granger | WW2, Gordon Highlanders and the Black Watch |
| Tennessee Ernie Ford | WW2, USAAF B-29 Superfortress bombardier |
| Van Heflin | WW2, USAAF Combat Photographer with the First Motion Picture Unit of the Ninth Air Force |
| William Conrad | WW2, USAAF Fighter Pilot |
| William Holden | WW2, USAAF, 2nd Lieutenant in the Army Air Force's 1st Motion Picture Unit |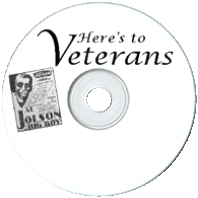 See also: Here's to Veterans