There are thirteen free sampler MP3 CDs to choose from when you submit your order.
With your order of $5+, you can
choose one sampler MP3 CD
with up to 100+ episodes from all
various old time radio shows
from all different series.

Special Samplers:
With your order of $10+, choose one of the following free special samplers on checkout: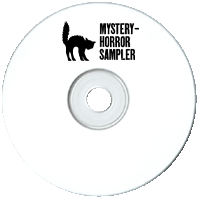 On checkout, you will be prompted to choose a FREE SAMPLER CD to be included in your order!

If you place an order for DOWNLOAD ONLY instead of AUDIO CD or MP3 CDs, you'll have access to stream/download a sampler cd of your choice with your order rather than receiving a MP3 CD through the mail.
What are shipping costs:
Postal Rates:
OTRCAT ships promptly to the United States, Canada, United Kingdom, Australia, and worldwide!
CD orders typically ship out within 24 hours. There are no shipping costs for instant DOWNLOAD ONLY.
Select your shipping method in shopping cart to be auto calculated.

US Orders: Free media mail shipping on orders of $25+
For USA customers:
Shipping Options:

$5 - $24
(1 -4 CDs)




$4.00 (Media Mail - 8 business days)
$5.50 (Ground Advantage - 5 business days)
$8.50 (Priority Mail - 3 business days)




$25 +
(5 or more CDs)





$0.00 (Media Mail - 8 business days)
$5.50 (Ground Advantage - 5 business days)
$8.50 (Priority Mail - 3 business days)




International Orders: Flat rate shipping of $22.00 for airmail (typically 14 business days delivery)
What is MP3?
More than 50 times as many shows can be stored on an
MP3 disk
than a
standard audio CD
, but MP3 recordings must be played on your computer or
special MP3 player device
.
Watch a brief video about the MP3 format:
Why Collect Old Time Radio Shows in MP3 format?
Listening to old time radio is easier than ever at OTRCAT.com. Our entire catalog is now also available on "download only"--no CDs, no mail, no waiting! With your paid order, you'll have instant access to your old time radio shows online.
Our full catalog of old time radio shows is available for order in three formats:
1.) Download Only: Save money! Online only, no CDs, no mail, no wait
2.) MP3 CDs: Affordable: Mp3 discs play in your computer disc drive and many MP3 players. Still have access to online content
3.) Audio CDs: Easy: plays in regular CD players. Still have access to online content
If you're reading this webpage on your computer with a CD drive, you already have everything you need to enjoy OTRCAT MP3 CDs; they are guaranteed to play on your computer.
Saving your old time radio show collection in the MP3 format is a great way to save old time radio shows for easy listening.MP3 is a sound compression format that allows up to 50+ hours of old time radio shows on just one MP3 CD compared to just 1 hour of recordings on an audio CD.
With the introduction of MP3 technology (in 1997), collections of old time radio shows that once filled rooms on reel-to-reel, cassettes, and transcription disks can now be stored on a small stack of MP3 CDs.
MP3 is an acronym which stands for Mpeg 1 Audio Layer 3. Because the lower fidelity of the original vintage recordings, there is miniscule loss of sound quality due to MP3 compression.
These disks play in your computer and many special MP3 player device.
While you're waiting for the archival quality CDs to arrive: OTRCAT make listening to old time radio easier than ever with instant download access to your paid old time radio show order. Return customers can login to your account and stream or download all the shows you have ordered from us online -- free!
MP3 CD Value Example from Mr. Alan Ladd:
The 52 Episodes of BOX 13 that fit on Mp3 CD ($5.00) would require 26 audio cds to store the same shows ($130)
Quick facts about OTRCAT MP3 CD's:
MP3 CDs can store up to 50+ hours classic radio shows on a single disk.
MP3 CDs cannot play in standard audio CD players.
MP3 CDs can play in special MP3 players and in your computer using free programs such as:
What is old time radio (OTR) and where does it come from?
OTR stands for Old Time Radio. Old Time radio shows were popular during the early to mid 20ths century and there was a radio set in almost every home in America. Classic radio recordings are highly entertaining for both old and young listeners.
The term old time radio encompasses radio recordings made usually between the mid 1920's through 1960. This "golden age of radio" included all genres of amazing recordings which were frequently performed live by top name performers.
Although much of radio history was lost (never recorded), existing episodes still in circulation were primarily stored by fans or sponsors of the program on transcription disk or reel-to-reel tapes. These recordings are encoded (converted from analog to digital format) from their original media into MP3 format for easier collecting, playback, and listening.
Old Time Radio shows are a varied group of people. Some otr fans listened to old time radio shows when they were first broadcast decades ago. However, there is a new generation of old time radio listener who is just now listening to classic old time radio recordings.
Factoids
Will these old time radio shows play in my MP3/DVD player?
Probably... but it depends on what brand and model of MP3/DVD player you own.
The good news is if you're reading this webpage on your computer, you already have everything you need to enjoy OTRCAT MP3 CDs; they are guaranteed to play on your computer.
Most of the newest generation MP3/DVD player support playing OTRCAT MP3 disks, but the MP3 CDs themselves are guaranteed to play in your computer using the program WinAmp (available for free). Many MP3 players say they will play all MP3's, but simply will not play certain MP3 bitrates. Many recordings are stored as 64kps 44khz bitrate MP3 files; if your player supports these specs, they should work fine, but not always.
For away from the computer listening, see a list of recommended MP3 players or general information about the MP3 format.
See also: how to listen to old time radio in your car.
Audio disks will play in any standard modern audio CD player at home or in your car.
What is the sound quality of these old time radio shows? What bitrate are they stored?
Despite inferior sound recording quality of the time period these shows were recorded, most shows' sound quality is relatively good.
Although MP3 bitrates vary from series to series, our old time radio shows are stored at 32kps to 64kps.
By today's standards, these vintage recordings are relatively low-fidelity. There is little loss of sound quality due to MP3 compression at these bitrate setting. More important than the actual bitrate of the MP3 is the quality of the original media. OTRCAT strives to encode, collect, and organize the best quality recordings available.
You can listen to a full episode from most series to sample to the sound quality online. Near the top right of a log page, there is a sample episode that you can listen to a streaming show or download the MP3 file to your computer.
There are also new episodes every day on FREE OLD TIME RADIO DOWNLOADS PAGE.
Can these shows be transferred to audio cassette?
Yes. You can transfer the shows to audio-cassette. A dual-male minijack cord (available at any electronics's store) can easily be plugged into the back of the computer and then into a tape recording device. Just play the MP3 on your computer and press record on the tape deck.
Another alternative is a MP3 CD player and a cassette adapter (or lower power FM tuner) which is a great way to play the actual MP3 CDs in the car; please click here to see a list of recommended MP3 players.
Can MP3 shows be transferred to audio cd?
Yes. You can rewrite the MP3's onto audio CD.
The greatest disadvantage is that you can only fit two 30-minute episodes on a single audio CD compared to the hours that can fit on an MP3 CD.
All our collections are available for purchase on audio CD from the website, but if you'd prefer to transfer MP3 to audio cd yourself: First copy the episodes you wanted to record onto you computer hard drive and use a program such as Nero or Easy CD Creator. Using a slower write-speed (such as 2x or 4x) and CD-R media (rather than CDRW disks) will insure a more probable successful write.
As an inexpensive alternative, see the list of recommended MP3 CD players that can play the disks directly for as little as $30-$40.
Why are the same episode listed more than once in the same series?
Even back in the golden era of radio, they had script 're-runs.' The producers of the many of the series frequently used the same popular script and rebroadcast or performed it on a later date (so it's usually the same or very similar script, but actually a different variation of the performance recorded). Popular scripts, movies, and short stories often appeared in multiple series.
Some collections include AFRS broadcasts (which are non-commercial) to be aired to servicemen overseas. Other episodes may be labelled with EC and WC would signify East Coast and West Coast broadcasts. These are different recordings reacted by the same actors and script for the different network airtimes. Additionally in a few series there are "Audition" episodes which are unaired broadcasts of the first time a series was performed. Many listeners are interested in these specific broadcasts, but if you are not, the beauty of digital recordings is you can skip the episode with a touch of a button and listen to the next broadcast.
What does "AFRS" stand for?
AFRS, "Armed Forces Radio Services," began rebroadcasting favorite radio programs to troops and their family stationed overseas starting in 1942. Typically sponsorship and commercials were removed for AFRS broadcast.
What does "Aud" mean?
"Aud" is short for "Audition program" (or sometimes labelled as episode "00") which were typically a rare test run of the script with voice actors which were not broadcast. These uniqie recordings can have different actors in their roles than when the series actually aired.
What does "transcribed" mean?
During the golden age of radio, most of the recordings were broadcast live. The advent of transcription disks (recording media) and later magnetic tape allowed actors and artists to prerecord the shows for later broadcast. During the old time radio era, the networks thought it was important to notify listeners that the recordings was "transcribed" or prerecorded.
How are these radio shows dated?
Filenames of old time radio shows which are dated as yy-mm-dd. Each series has a list of episode at the bottom of the log page and each episode is identified by the actual filenames. For example:
This MP3 file would be a broadcast of: The series "Fort Laramie", broadcast on February 5, 1956 with the episode title "Squaw Man"
The broadcast date is in the format YYMMDD. The filenames help identify the individual episodes and often contain some or many of the following information including Series, Episode number, Episode title, and Airing Date.
To maximize compatibility with as many MP3 players as possible, OTRCAT does not use ID3 tags. If corrupted, ID3 can prevents playback in certain programs and external MP3 players.
How can I determine if an MP3 CD is defective?
Disks are guaranteed to play in your computer CDR drive with players such as VLC Player or WinAMP. Because every MP3 player has different playback specifications, it is possible some MP3 Players may be improperly decoding or reading the MP3 CD.
Possible reasons a MP3 player may refuse to play a MP3 CD:
number of MP3 files on disk [example: some MP3 players will not play a disk with over 50 episodes]

MP3 decoding errors [example: some MP3 player may only play specific bitrate MP3 files]

not liking specific non-ASCII characters in filename

filenames are considered too long

filename characters are incompatible with MP3 player [example: possible # or $ sign causes error]

truncated recording [example: player will not play ending of some recordings]

MP3 player has worn out [even MP3 and CDR players have an eventual end-of-life]
Errors from your MP3 player such as "Error" or "Can't read disk" or "No MP3" does not confirm the disk is defective.
If all other disks play in your MP3 player, but the MP3 player will not play a single disk, this alone does not confirm the disk itself is defective.
To confirm the media is defective, please first try the disk in your computer and let us know the exact error message you receive to confirm the disk is defective.
Why do the filenames appear jumbled on my Macintosh computer? (iOS 9 Users)
Listeners using a Macintosh computer with System 9 or older may need a program to fully decipher the file name of the shows. A free joilet extension is available which enhances the way your Macintosh computer can read CD-ROM's. Without this joilet extension, file names may appear abbreviated which will make it harder to decipher the episode titles (although the shows will still play fine). This file name problem has been resolved in by Apple in OS X.
Why do shows skips or repeat on my Apple mobile product (iOS11)?
If you're using an Apple mobile product such as an iPad, iPhone, or iPod, it is a known software issue that the Apple products will 'fall asleep' and disconnect when streaming mp3 from html5 from the web after about 4-5 minutes. Unfortunately this disconnect may cause the episode may stutter, stop or repeat itself. To solve the issue, instead of streaming the show you can download the full episode for easy listening.
How are these CDs labeled?
All CDs come with labelled with silk-screened black lettering graphics and come in paper sleeves with clear plastic to protect them during shipping.
The radio shows are stored on Mitsui and Taiyo Yuden media which is the top quality CDR media for longest archival life.
Because the label is silk-screened directly on the disk, there is no sticky label to jam in CD drives.
Unlike inkjet printed labels, these attractive silk-screened label will not run, fade, deteriorate, or shorten the lifespan of the media.
Is Old Time Radio available on USB thumbdrive / flash drives?
No. Sorry, we do not provide shows as a subscription service or on USB thumb drives, flash drives, or SD cards. Radio shows are available as Audio CDs, MP3 CDs and Instant Download. Customers order the shows on MP3 CDs or instant downloads and can copy the shows to their own USB flash drives for listening convenience.
How are these collections updated or upgraded?
We strive to increase the collections' sound quality and any additional episodes. If the collection is updated with a better sound quality or additional episodes, an email notification is sent to previous listeners that new collection is available at a discount price.
Upgraded collections are available at up to 40% off for previous purchasers. You can view your complete order history which shows you all the possible upgrades and discounts for your account by:
1. Login to My Account
2. Click tab: My Purchased Disks
Once you are logged in, you can also review a list of all your previous orders. If a collection has been updated since you ordered, you can buy the new updated collection at a 40% discount through your web portal login.
Do you have an old time radio app?
Absolutely no iPhone or Android app download is required! Use your browser to visit the optimized and secure OTRCAT.com website on your Android, Apple, or Windows computer, tablet, and mobile phone. You can order, download and stream the shows directly to your desktop or mobile device without any individual app purchase or download.
You can create a home screen shortcut icon to your downloads on your iPhone/iPad by:
1. Tap the "Safari" icon and then navigate to https://www.otrcat.com/my-collection
2. Wait for the website to load and then tap the "Share" icon. The icon is an arrow coming out of a box.
3. Select "Add to Home Screen"
To create a home screen shortcut icon to your downloads on your Android phone/tablet by:
1. Tap the "Chrome" icon and then navigate to https://www.otrcat.com/my-collection
2. Wait for the website to load and then tap the three bar icon on top right
3. Select "Add to Home Screen"
How do I get OTRCAT.com coupons? How do I use a promo code?
To receive special coupon codes and discounts, please sign up for the OTRCAT newsletter which includes list of new articles, exclusive content, collections, and special offers available at OTRCAT!
To use a promo code you have received:
1. On the shopping cart page, click the link "Have a Promo Code?"
2. Enter the promo code and click "Add" button
3. Click "Checkout >>" button and complete your paid order
What is the OTRCAT refund policy?
Due to the nature of these recordings: once an order is placed, all sales are final. We do not provide refunds for download or CD orders. Our extensive collection is digitally transferred; any "flaws" in these 50-90 years old recordings are inherent in the original media and are not grounds for a refund.
What is the OTRCAT privacy policy?
OTRCAT is committed to protecting your privacy; we do not sell, trade, or rent your personal information to others. We only use the information we collect about you to process orders and to provide support and updates for our products.
OTRCAT respects your privacy. Your email address and personal information. By entering your email address in the "join mailing list" "comment" or "checkout" form, you agree to sign up for the free OTRCAT email newsletter which you can unsubscribed at any time.
To protect consumer information, we use a secure server for collecting personal and credit card information. The secure server layer (SSL) encrypts (scrambles) all of the information you enter before it is transmitted. For additional security, credit card information is not stored locally (only passed encrypted to the credit card processor). All customer data we collect is protected against unauthorized access.
The site uses GeoLite2 database created by MaxMind. "Cookies" (which are small pieces of information that are temporarily stored by your browser on your computer's hard drive) are required for the OTRCAT shopping cart to function correctly.
Can I join the OTRCAT mailing list?
Yes!

Enter your email address in the the form at the bottom footer of this page to receive the old time radio newsletter with new collections, discounts and special offers!
OTRCAT respects your privacy, your email addresses and
personal information are never revealed to any third party.
You can also follow us on social media for the latest updates and sales:
How can I contact OTRCAT?
OTRCAT do not offer phone support,but if you have any other
questions, suggestions, or error corrections, please contact us by emailing order@otrcat.com.
You can also write to:
OTRCAT
PO BOX 19234
LENEXA KS 66285
USA