People You'd Like To Know
Find out more about the person behind the Hollywood star when journalist, Dorothy Kilgallen, tells you more about People You'd Like to Know.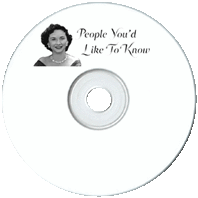 5 old time radio show recordings
(total playtime 0 hours, 11 min)
available in the following formats:

1 MP3 CD
or
1 Audio CDs
Text on OTRCAT.com ©2001-2023 OTRCAT INC All Rights Reserved. Reproduction is prohibited.
Did you ever think about some star, "I bet she is just a nice person and I would really like to get to know her." Famous journalist and gossip columnist, Dorothy Kilgallen, did just that by bringing the stars out of the heavens and down-to-earth. Listen to the sample episode to her talk about Cary Grant and how he purchases suits then wears them for many years, taking great care of them.
Beginning in 1945 on WOR, Kilgallen had a regular radio show with her husband, Richard Kollmar of Boston Blackie, Breakfast with Dorothy and Dick. They had guests into their home and talked with them about different subjects related to the guests lives. Their children often appeared on the show as well providing comic relief. The show lasted until Kilgallen became sick in 1963. Kilgallen also appeared on What's My Line beginning with the first show in 1950 ending with her death in 1965.
Kilgallen was also no stranger to controversy. She had long-running feuds with Frank Sinatra and Jack Paar plus she was the first journalist to out John F. Kennedy's affair with Marilyn Monroe. Though she never mentioned the president by name, the clues were so transparent that it left no doubt as to the identity of Monroe's secret lover.
For more Dorothy Killgallen, see also: Breakfast with Dorothy & Dick, Dorothy Kilgallen's Diary, People You'd Like to Know, Bright Horizon, and What's My Line. For more gossipy excitement, see also Hedda Hopper's Hollywood, Louella Parsons, Show Stoppers, and Walter Winchell. See also: Hollywood Byline.
Text on OTRCAT.com ©2001-2023 OTRCAT INC All Rights Reserved. Reproduction is prohibited.