Stella Dallas
From the pages of pulp fiction to an early soap opera, Stella Dallas is a tale of motherly love in the face of class differences.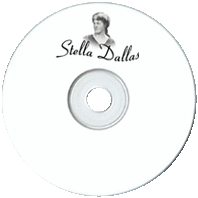 13 old time radio show recordings
(total playtime 2 hours, 48 min)
available in the following formats:

1 MP3 CD
or
3 Audio CDs
Text on OTRCAT.com ©2001-2023 OTRCAT INC All Rights Reserved. Reproduction is prohibited.

"The true life sequel…of Mother love and sacrifice"
Follow the life of Stella Dallas as she gets falsely accused of stealing an Egyptian mummy. Based on the novels by Olive Higgins Prouty (1882-1974) , she was one of the first women to write pulp fiction with strong and independent women characters (1882-1974) in the United States. Dallas was a working-class heroine that was suddenly rich after marrying Stephen Dallas; her strong love for her daughter Laurel is the primary theme of the series.
This is one of the rare instances in early entertainment where a working class woman is presented with dignity and respect. Because of her high earnings between the wars, she was able to donate a lot of money to charities including a scholarship for Sylvia Plath whom she befriended. Though Prouty was against the depiction of the later Stella Dallas old time radio show, it is considered by many as the mother of all soap operas and dramatic tones on the organ after each dialogue support that theory. Stella Dallas was depicted by Barbara Stanwyck in 1937, and again as Stella starring Bette Midler in 1990.
For another soap opera turned feature film, see also: Claudia. This collection is in the extensive Hummert Radio Factory Collection. Called the parents of soap opera, Anne and Frank Hummert also created Betty and Bob, Front Page Farrell, Mr. Keen Tracer of Lost Persons, Ma Perkins, Just Plain Bill, Mary Noble Backstage Wife, Young Widder Brown, Mr. Chameleon, Stella Dallas, Manhattan Merry Go Round, Lora Lawton, The American Melody Hour, Hearthstone of the Death Squad, Lorenzo Jones, Nona From Nowhere, Our Gal Sunday, Inspector Thorne, Romance of Helen Trent, and more.
Text on OTRCAT.com ©2001-2023 OTRCAT INC All Rights Reserved. Reproduction is prohibited.