Hollywood Soundstage
Grab a seat on the Hollywood Soundstage and listen to stars like Dana Andrews, Bette Davis, Jeff Chandler, and Tyrone Power present adaptions of some of the era's most popular movies.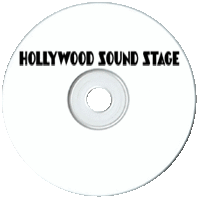 8 old time radio show recordings
(total playtime 3 hours, 56 min)
available in the following formats:

1 MP3 CD
or
4 Audio CDs
Text on OTRCAT.com ©2001-2023 OTRCAT INC All Rights Reserved. Reproduction is prohibited.
Hollywood Soundstage presented radio versions of popular movies from the late 1930s into the 1950s. The show starred various movies stars of the time along with the Screen Guild Players. In addition to Hollywood Soundstage, the show also went by Stars in the Air and Screen Guild Theatre. Sometimes the sponsor's name appears in the title such as Camel Cigarettes Screen Guild Theatre or Lady Esther Presents The Screen Guild Players. The show also appeared on the major radio networks and on the Armed Forces network.
The show was produced by the Screen Actor's Guild (SAG) to support a charity fund and the SAG country home and hospital. The fund was the brainchild of Mary Pickford, Charlie Chaplin, and Douglas Fairbanks in response to the grueling conditions in the motion picture industry when it was just starting. It was a mostly well-kept secret that actors, crew, even d irectors were working 14 to 16 hours a day, seven days a week churning out hundreds of movies in a year. When people in the industry were ground down from exhaustion, they were often left destitute. The fund sought to help those who needed it.
Stars who appeared on the show include Claudette Colbert, Dana Andrews, Barry Sullivan, Thomas Gomez and many, many more. The stars were happy to give their time to the charity knowing that they were helping people with whom they worked through the years.
Text on OTRCAT.com ©2001-2023 OTRCAT INC All Rights Reserved. Reproduction is prohibited.