Cloak and Dagger
Most spy stories are pure fiction, but Cloak and Dagger is the real deal! Taken from the files of the OSS, precursor the CIA, the show highlights the exploits of men who go into danger for their country.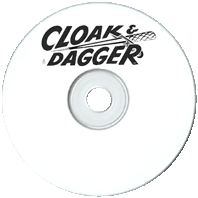 22 old time radio show recordings
(total playtime 10 hours, 45 min)
available in the following formats:

1 MP3 CD
or
11 Audio CDs
Text on OTRCAT.com ©2001-2023 OTRCAT INC All Rights Reserved. Reproduction is prohibited.
This is the story of the WWII special governmental agency, the OSS, or Office of Strategic Services. Its mission was to develop and maintain spy networks throughout Europe and into Asia, while giving aid to underground partisan groups and developing espionage activities for Allied forces overseas.The show is based on the book of the same name by Lt. Col. Corey Ford and Major Alastair MacBain (who were associated with the OSS from its early days.) The dramas are not Hollywood-style, in that they sometimes end with plans foiled or leading characters dead. Each week was a new half-hour story of the OSS's exploits, with different actors. The casts were drawn from the best of the New York radio scene, including Raymond Edward Johnson (Inner Sanctum Mysteries), Virginia Payne, Joseph Julian, Jackson Beck (Hop Harrigan, Cisco Kid, Casey, Crime Photographer and Philo Vance), Jan Miner, Les Tremayne, Maurice Tarplin (Mysterious Traveler) and Boris Aplon (Captain Midnight), Everett Sloane (Mercury Theatre, Campbell Playhouse), and Martin Balsam, The show was directed by Sherman Marks and written
It opened with the question, "Are you willing to undertake a dangerous mission for the United States, knowing in advance you may never return alive?" Of course, today's headlines make this dramatization of our history all the more intriguing, and all the more relevant.
For more espionage and adventure see: Top Secret, The Silent Men, I was a Communist for the FBI, Counterspy - David Harding!, Dangerous Assignment, The Adventures of Frank Race, Harry Lime (The Third Man), Secret Agent K7 Returns, Spy Catcher, and The Man Called X.
Text on OTRCAT.com ©2001-2023 OTRCAT INC All Rights Reserved. Reproduction is prohibited.