by Tim DeForest
By the 1950s, reel-to-reel tape had replaced wax discs as the medium for recording radio shows. This made it much easier to pre-record shows rather than performing them live. This, in turn, opened up opportunities for busy movie stars to headline their own shows, since recording opportunities could be made to fit around their filming schedules.
A number of well-known stars jumped at the opportunity to do a radio series. Alan Ladd played writer/adventurer Dan Holiday in Box 13 (1948-49). Humphrey Bogart and Lauren Bacall traded quips in Bold Venture in 1951-52.
Jimmy Stewart's turn came in 1953, when he starred in the NBC Western series The Six Shooter. He played Britt Ponset, a "Texas plainsman who wandered through the western territories, leaving behind a trail of still-remembered legends."
It's not surprising that Stewart would choose a Western. Many of the critically and commercially successful films he made during the 1950s were Westerns, the best of which is arguably Winchester '73 (1950). And Stewart enjoyed Westerns, once saying "… they're told against the background of a very dramatic period in our history [and] give people a feeling of hope, an affirmative statement of living."
The show was created and largely written by Frank Burt, a talented writer with numerous credits on both radio and television. He would also write the script of Stewart's 1955 Western The Man from Laramie.
Jack Johnstone, one of radio's best and busiest directors, would direct, while Basil Adlam composed a very effective musical theme titled "Highland Lament." Some of radio's best character actors, including Harry Bartell, Sam Edwards, Virginia Gregg, Parley Baer and William Conrad, would fill in the supporting role. Conrad, by the way, was starring in radio's Gunsmoke at the time on rival network CBS, so he was often credited on The Six Shooter under another name. These actors would appear in multiple roles during the show's run, a common practice during radio's heyday.
With that much talent to back him up, Stewart was able to give us a short-lived but very entertaining Western. The actor first appeared as Britt Ponset in the April 13, 1952 episode of Hollywood Star Playhouse. The Six Shooter premiered as a regular series on NBC on September 20, 1953.
The show's opening narration, with "Highland Lament" playing in the background, set the mood for the show: "The man in the saddle is angular and long-legged. His skin is sun-dyed brown. The gun in his holster is gray steel and rainbow mother-of-pearl, its handle unmarked. People called them both 'the Six Shooter.'"
Britt was a wanderer—someone who was unable to put down roots in any one place; a man who preferred to sleep by a campfire instead of in a soft hotel bed. So, riding his horse Scar, he was forever wandering around the Frontier, where he would inevitably become involved in a wide variety of adventures—anything from stalking a killer to judging a preserves-tasting contest. This allowed for a lot of variety from episode to episode. One week might give the audience a straightforward action plot. The next week might be a comedy. The week after that could be a quiet character study. Often, the tone of a specific episode would gradually shift from drama to comedy or visa versa, depending on how the story played out.
Stewart's portrayal of Britt was tailored to this premise. Most of the time, he played the wanderer in a laid-back, folksy manner that helped make Britt one of the most easily likable characters on radio. But Britt was also a skilled gunman and Stewart's performance could smoothly segue to a more dangerous tone when the situation called for it. Britt provided first-person narration of the action and when Stewart's voice dropped to a tense whisper, listeners knew that someone was likely to end up getting shot.
But, despite his reputation as a skilled gunman, Britt was far from bloodthirsty. It's interesting to note that he rarely shot to kill—doing so only when he had no choice. During the series, he kills just two men, is indirectly responsible for killing a third, and mentions having killed a fourth "off-screen." By comparison, Matt Dillon on Gunsmoke would rarely finish an episode without being forced to kill at least one man.
The production values, writing and performances from supporting actors were all superb, but it was Stewart's characterization of Britt that gave the show its heart. Stewart considered Britt Ponset to be one of his favorite roles and his obvious enjoyment in playing the wandering cowboy is an important part of The Six Shooter's lasting appeal.
A few of the best episodes include:
"Silver Annie"
(October 11, 1953)

The dying town of Virtue City is hoping to be revitalized by having the railroad come through. But aging Annie Huxley—known as Silver Annie—refuses to sell her played-out mine to open the right-of-way. Britt, an old friend of Annie, is roped into talking her into selling.
This episode is the first of several comedies that are peppered throughout the run of The Six Shooter. Jeanette Nolan as Silver Annie gives a performance that adds real heart to the laughs.
"Rink Larkin"
(October 18, 1953)

An 11-year-old boy refuses to believe his father was a bank robber—or that the sheriff who killed his dad wasn't a murderer. Britt had befriended the boy before learning the full situation, so that left him with the responsibility trying to stop an angry and independent child from trying to kill a man.
"The Capture of Stacy Gault"
(November 8, 1953)

The town of Elk Point is in a panic—rumor has it that an outlaw and killer named Stacy Gault is heading towards them. Britt recognizes the rumors as just that and tries to calm everyone down—especially before a (probably) innocent man gets gunned down by a nervous posse.
This is another comedy with an absolutely hilarious resolution, but there's also a scene involving Britt talking down the posse that reminds us this easy-going man can be tough and dangerous when the situation calls for it.
"Hiram's Goldstrike"
(January 10, 1954)

This particularly entertaining episode involves an eccentric prospector (enthusiastically played by Howard McNeer) who seems to have finally found a rich strike after 45 years of searching. The story segues smoothly from comedy to drama and back to comedy, with a superb sequence in which Britt and an outlaw confront each other in a pitch-black room. There's a great twist near the end, leading up to a hilarious gag at the conclusion.
"Crisis at Easter Creek"
(April 15, 1954)

The town of Easter Creek has two problems. They can't afford to buy a working organ for their choir to use during the upcoming Easter service and an area just outside of town is rumored to be a haven for outlaws. When Britt is asked to help raise money for the organ, he hits on the innovative idea of asking the outlaws to donate. William Conrad plays an outlaw known as Red-Eye Kirk and is credited in the episode under that name.
This article is adapted from The Six-Shooter: A Review and Episode Guide of the Old-Time Radio Show, by Tim DeForest.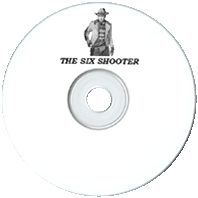 Listen to all 41 episodes of THE SIX SHOOTER now!
---

Tim DeForest has been geeking out on various elements of early 20th Century pop culture for most of his life. He is the author of several books on old-time radio, comic strips and pulp fiction. His first book—Storytelling in the Pulps, Comics and Radio: How Technology Changed Popular Fiction in America--was published in 2004. Radio by the Book: Adaptations of Fiction and Literature on the Airwaves, was published in 2008. Tim also maintains a blog about comics, radio and pulp fiction.
Tim has also written magazine articles on military history and the American West. He regularly teaches several Bible studies and has served as a short-term missionary in Haiti and south Sudan.