The Police Reporter
early true crime drama from 1932-33, these old time radio shows are true stories of actual murders dramatically retold.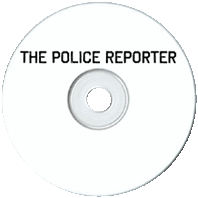 26 old time radio show recordings
(total playtime 6 hours, 23 min)
available in the following formats:

1 MP3 CD
or
7 Audio CDs
Text on OTRCAT.com ©2001-2023 OTRCAT INC All Rights Reserved. Reproduction is prohibited.

This old time radio show used solicited scripts from "The Writer's Market" for the projects, and ideas sought from listeners. The premise was reporting on the most grisly of murders, The producers were willing to consider stories from history, including Elizabethan England and 1875 Paris, through the latest (at the time) headlines. The Police Officers seem to be of the "Flat-Foot" variety; it is more the incompetence of evil-doing that is the murderers undoing than the Cop's investigative prowess. In most cases the Murderer is foiled by a seemingly insignificant detail they have missed. And Justice is always satisfied.
Those who grew up in the era of Television and YouTube may be mystified that murder shown on the radio could be as gruesome as any they have seen in modern media. It is a testimony to the power of the human imagination that the picture of a crime scene that you develop in your mind's eye will be darker, scarier, and more disturbing than anything the best Special Effects team could ever invent.
The Police Reporter was one of the earliest True Crime Dramas, predating Gangbusters by two years. As sensational and melodramatic as they are, The Police Reporter stories are all the more disturbing because they are all based on actual events with many of the background of the crime and sentencing. The stories presented in The Police Reporter may not appropriate for children.
See also: Black Museum.
For more true police stories see also:
Text on OTRCAT.com ©2001-2023 OTRCAT INC All Rights Reserved. Reproduction is prohibited.