Complete Broadcast 1944 (D-Day Invasion of Normandy) CBS Coverage
The invasion of Europe was to be the turning point of The War, but no one back home knew when or how it would happen. CBS recorded their entire broadcast day on June 6, 1944, so we can learn about the events as they unfold.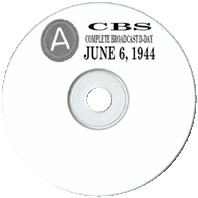 24 old time radio show recordings
(total playtime 23 hours, 16 min)
available in the following formats:

1 MP3 CD
or
24 Audio CDs
Text on OTRCAT.com ©2001-2023 OTRCAT INC All Rights Reserved. Reproduction is prohibited.

CBS Coverage of Complete Broadcast Day - June 6, 1944: D-Day Allies Invade Normandy
After years of planning, the U.S. and allied troops invaded the shores of Normandy in a surprise attack on the Nazi occupying forces on June 6 th, 1944. 12,000 British and American airplanes led the attack. Thousands of paratroopers landed in enemy territory and attempted to suppress a German counter attack. Five French beach fronts were invaded by British, Canadian and American troops that arrived via the sea. The successfully pushed back the Nazi Defense known as the "Atlantic Wall and this day marked a turning point in favor of the allies and the liberation of Europe in World War II. D-day began the Battle of Normandy and by the end of July 1944, about 1 million Allied troops, mostly American, British and Canadian, were entrenched in Normandy. Some believe that if the D-day invasion did not occur, that there would have been a Soviet invasion of Europe to the western coast leading to communism throughout the continent. To read a first hand account of the invasion please visit Lee's Old Time Radio Memory.
It is a day that change the world and this collection constitutes the broadcast of shows the almost the entire 24 hour day of June 6th, 1944.
See also:
Text on OTRCAT.com ©2001-2023 OTRCAT INC All Rights Reserved. Reproduction is prohibited.