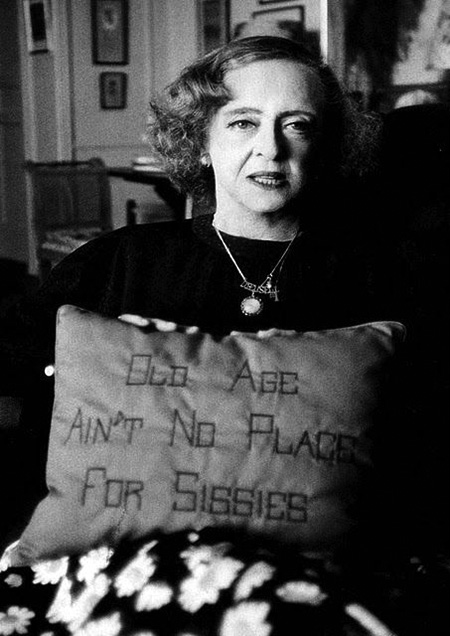 "Old age ain't no place for sissies."
- Bette Davis
Bette Davis would know about old age, she lived to be 81! A Queen of Hollywood with the nickname "The first lady of film", Bette Davis has more than a hundred acting credits and ten academy award nominations. She was known for her sardonic and straight forward characters, often smoking cigarettes. She once said, "If everybody likes you, you're pretty dull."
Starring opposite Bette Davis in 1962 What Ever Happened to Baby Jane? was another Queen of Hollywood, Joan Crawford. Rumor has it that Joan Crawford put rocks in her pockets to be heavier to lift by Bette Davis. They were vicious and petty rivals, Bette Davis once said about Joan Crawford "She has slept with every male star at MGM except Lassie." Ouch!
Joan Crawdford had her own zingers about Bette Davis including "Bette is a survivor. She survived herself."and "Poor Bette! She looks like she's never had a happy day… or night, in her life.", and many more quips.
Though their rivalry made headlines, they were both stars in their own right with careers that spanned decades.
| | |
| --- | --- |
| During her decades long career, she remained the epitome of Hollywood glamour and prestige.This collection contains the radio appearances of the "First Queen of the Movies." | Bette Davis was one of the top Hollywood actresses of all time. During her career she received 10 nominations for the Academy Award for Best Actress and won twice. This collection includes all known guest appearances. |