The Home Front Featuring William B. Williams
Featuring William B Williams, The Home Front tells the stories of WWII from the point of view of the families and friends who stayed home.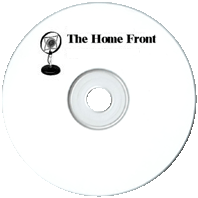 8 old time radio show recordings
(total playtime 5 hours, 36 min)
available in the following formats:

1 MP3 CD
or
8 Audio CDs
Text on OTRCAT.com ©2001-2023 OTRCAT INC All Rights Reserved. Reproduction is prohibited.
Here is an eight episode history lesson which features narration William B. Williams, Edward Brown and Frank Gorman. The Home Front tells the story of the Second World War as it was seen by the families, the lovers, mothers, fathers and little brothers and sisters who remained in the good old USA while their men went off to fight the Great War.
The series was written by longtime WNEW DJ William B. Williams. Williams got his start as a local announcer on WAAT in 1944, and bounced around several stations until finding a long term home at WNEW in several timeslots, including the morning show and Music in a Sentimental Mood between one and two in the afternoon. Beginning in 1954, Williams took over hosting The Make Believe Ballroom on ABC. There was little doubt about Williams' attitude towards Rock music ("It stinks!"), but he did cultivate a close relationship with many of the era's biggest recording artists. One day on the air he quipped that if Benny Goodman was "the King of Swing" and Duke Ellington was a duke, Frank Sinatra must be "the Chairman of the Board". Sinatra heard about his friend's comment and embraced the title.
The Home Front covers each of the War Years in its eight episodes, from 1939 through Victory in 1945. News clips are featured throughout the series to show the information that folks on the Home Front were hearing each year, but the program also highlights the music and movies of the time. Although it is more edited than our Historic Recordings, the series is a terrific overview of the War Years.
Text on OTRCAT.com ©2001-2023 OTRCAT INC All Rights Reserved. Reproduction is prohibited.