High Moment
This old time radio show from 1950s dramatizes real life events by real life individuals working to make America a better place.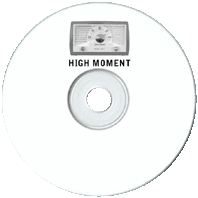 4 old time radio show recordings
(total playtime 1 hours, 43 min)
available in the following formats:

1 MP3 CD
or
2 Audio CDs
Text on OTRCAT.com ©2001-2023 OTRCAT INC All Rights Reserved. Reproduction is prohibited.
High Moment was an old time radio program dedicated to bringing the real life stories of Americans in a dramatic portrayal. This radio program from the late 50's related to the audience 'the moments of your lives and the moments of your neighbors on your block'; the way the narrator would introduce the radio episode. The show presents real life events dramatized in radio play to showcase the work of communities to make their little piece of America a better place. High Moment is a show sponsored by the National women's Club and uses their resources to improve things for their communities.
A Doctor Comes to Gladesburg
This episode spotlights the arrival of a new doctor and his wife to the small community of Gladesburg. Dr Bainbridge comes to this quaint town to find the prior medical professional had very limited resources and facilities. The young physician finds some members of the town are reticent to his approach of trying to bring modern techniques into play. However, the young doctor does his best with what he has to bring healthcare to Gladesburg. Success and failure are all part of this episode.
A Head of Steam
A juvenile gang is creating havoc around the community and beginning to get noticed. The young people seem to be bored and start to do things, such as slash tires and vandalize public property. The local Women's Club decides to try to find out what they can do to change the way things are going. As things escalate, one main culprit, Al, is a leader of the hoodlums and faces court time for causing an accident. Al uses his position to organize the young people into increased trouble-making. But, you have to listen to find out the full story.
High Moment was a short-lived program and made an impression upon its listening public. The Women's Clubs encouraged involvement in the communities around the nation and was one of the largest civic groups to effect change. The stories presented paid positive homage to Americans that wanted to improve things where they lived. This program did a good thing...impressed people that no person or problem could not have focus and correction. We all live in High Moments.
Text on OTRCAT.com ©2001-2023 OTRCAT INC All Rights Reserved. Reproduction is prohibited.