The Bailes Brothers
and the West Virginia Homefolks, featured country western music Monday Mornings on KWKH.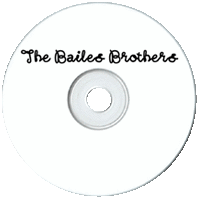 3 old time radio show recordings
(total playtime 0 hours, 35 min)
available in the following formats:

1 MP3 CD
or
1 Audio CDs
Text on OTRCAT.com ©2001-2023 OTRCAT INC All Rights Reserved. Reproduction is prohibited.
The Bailes Brothers, Kyle, Johnnie, Walter, and Homer, usually performed in combinations of two. They were one of the most popular close harmony acts during the 1940's and 50's.
The boys worked their way up from abject poverty. All were born on a small farm in Kanawha County, near Charleston, WV. A mail-order guitar was their stepping stone to the world of music. The boys were hymn singers at local churches. Kyle and Johnny supported the family for a time appearing with a relative on a regular program on WCHS.
In 1937 Johnny joined Red Sovine as "Smiley and Red and the Singing Sailors." Walter and Kyle played together with a group on WCHS. However both groups broke up in 1941. Johnny and Walter appeared as a duo on WCHS and WSAZ Huntington, sometimes joined by their brothers. Through a friendship with Roy Acuff, Johnny and Walter were invited to join the Grand Ole Opry in 1943, and became the first West Virginians to star on the show. While Homer served in the military, Kyle worked at various radio stations. Eventually they would join their brothers in Nashville. IN late 1946 they began recording for King Records and left the Opry, moving to KWKH in Shreveport. They became firm favorites of the "Louisiana Hayride" program when it began in 1948, which led to many requests to play outside venues. Several noted instrumentalists were featured in their band, "The West Virginia Home Folks." They recorded together for Columbia in April 1947. However Walter soon became a minister and left the group, and Kyle stopped performing to act as the acts manager.
Text on OTRCAT.com ©2001-2023 OTRCAT INC All Rights Reserved. Reproduction is prohibited.