During the 1930's, '40's and '50's, Clyde Beatty enjoyed a celebrity status that, today, we only associate with leading athletes and movie stars. In addition to top billing in the circus world, he was the subject of several best-selling books, starred in a number of hit motion pictures, and was called upon give major product endorsements. His popularity with children was equal to that of Gene Autry, Tom Mix, and Frank "Bring 'em Back Alive" Buck. As a result, there were Clyde Beatty "Big Little" books, comic books, and two cliff-hanger movie serials. Then, in 1950, he was given his own weekly radio show.
The idea for a Clyde Beatty radio show came from Shirley Thomas, the wife of Walter White, whose Commodore Productions had scored a major financial triumph in 1949 with a syndicated Hopalong Cassidy radio show. The basic premise of The Clyde Beatty Show was best summed up in the announcement that opened each episode:
"The world's greatest wild animal trainer Clyde Beatty with an exciting adventure from his brilliant career. The circus means thrills, excitement, and snarling jungle beasts. The circus means fun for young folks and old. But under the Big Top you see only a part of the story. The real drama comes behind the scenes where 500 people live as one family; where Clyde Beatty constantly risks death in the most dangerous act on earth. This master of the big cats has journeyed to Africa and India, hunting down his beasts in their native jungle. All of this is part of the Clyde Beatty Show.
The series was produced in Los Angeles using top West Coast talent. Radio actor Vic Perrin played the part of Clyde Beatty and Eve McVeagh was his wife Harriett. (By the time the show aired, the real Harriett Beatty had passed away. However, the producers retained her as a character and she figured prominently in most of the stories, which were usually identified as having taken place "a few years ago.")
A total of 52 thirty-minute episodes were produced. Targeted at younger listeners, the plots ranged from fairly realistic to wildly imaginative. The best episodes were based on incidents described in Beatty's books. At other times, the script writers were allowed to let their imaginations to run wild, creating stories which Beatty and his close friends must have found highly amusing: Clyde Beatty in an underwater battle with a octopus (Danger in the Deep); Clyde and Harriett captured by headhunters (Amazon Adventure), Clyde Beatty vs. a voodoo cult (Zombie), Clyde Beatty hunting gorillas in Africa (Jungle Joe), and Clyde Beatty investigating reports of a living unicorn (In Search of a Myth.) In at least two cases, scripts were based on incidents from the career of Frank Buck. Leopard on the Loose relates the shipboard escape and subsequent recapture of a leopard that Buck described in his 1930 book Bring 'em Back Alive. Borneo Devil Beast is loosely based on Buck's account of capturing a giant orangutan. Episode # 45 Mystery Island seems to have been inspired by Beatty's 1934 12-chapter movie serial The Lost Jungle: Clyde and Harriett find themselves on an uncharted island that contains wild animals from both Africa and India. (It is later revealed that these animals had escaped from a freighter that had gone aground on the island's rocky shore.)
Even though it was produced at a time when radio was rapidly taking a back seat to television, The Clyde Beatty Show had first-rate production values, with good acting, sound effects, and music. Clyde Beatty (Vic Perrin) often served as the narrator, setting the stage and then describing events in the story that would to follow. Whenever the action took place during a circus performance, authentic circus music was used, taken from the 1941 Columbia Records album Circus, recorded by Merle Evans and the Ringling-Barnum band. And, although not an actual piece of circus music, the show's theme music, written to sound like a rousing march, was performed circus-style by a studio band. (Known as the Clyde Beatty Radio March, this music was later used as an overture by circus band leaders on the shows that Beatty was appearing with.)
In 1950, The Clyde Beatty Show was sold to the Mutual radio network for sponsorship by Kellogg's. In most markets, it aired three times a week at 5:30 p.m. It ran from December 11, 1950 to January 18, 1952. (At age 5, this writer was a faithful listener. Even today, he can still recall one of the advertising jingles: "Snap, Crackle and Pop. Rice Krispies are good for you. Fun to listen to. Fun to eat. Eat Kellogg's Rice Krispies. We do!")
Of the 52 episodes that were produced, 46 still survive in good sound. All of these episodes are "family friendly" and still have the power to hold your interest, even in a world grown jaded by high-energy stories and special effects.
Having listened to all 46 episodes, here is my pick of the top 16 shows from this series:
Brush with Death (my all-time favorite) is based on Beatty's famous big cage encounter with the male lion Nero that almost cost him his leg and his career. In a rare occurrence, Harriett (Eve McVeagh) takes over as narrator for this episode after Clyde is temporarily put out of commission.
Beauty and the Beast (my second all-time favorite) is based on material from Beatty's 1941 book "Jungle Performers" and relates how he taught Harriett to become a wild animal trainer. For a dramatic conclusion, the scriptwriters drew upon another true incident: the time when Harriett filled in for Clyde at the Milwaukee Shrine Circus when he was sick in bed with a cold and high fever.
Tiger Escape is basedthe famous incident that occurred when the tigress Gracie escaped from her cage and Beatty had to find and recapture her inside the half completed Detroit Shrine Temple hotel.
Crisis on the Set is loosely based on an incident that occurred in 1934 when Beatty was in Hollywood filming the "The Lost Jungle." (The script writers wittingly or unwittingly made it seem as if the incident actual happened to Beatty's young co-star from the 1935 serial Darkest Africa.)
The Flying Politos is a well-told circus story about a family aerial act that needs to find an immediate replacement for one of its members. The most likely candidate is a son who is away attending college. Although a fine athlete and in top physical condition, he wants nothing to do with the circus.
For Children Only pits the Clyde Beatty Circus against some corrupt local politicians who are tying to squeeze the show for graft money in order for it to be able to set up and appear.
Hold that Tiger takes place in an unnamed Southern California city (although sharp-eared listeners will soon identify it as being San Diego.) The Beatty circus donates a troublesome tiger to the local zoo, but while it's being delivered, it escapes into the nearby park. Clyde and his cage crew volunteer to go in and recapture it if possible.
The Fabulous General Ike is another good circus story about a young homeless boy whom Clyde and Harriett rescue and bring to the show. While working in the horse department, the boy successful trains a horse named "General Ike" and becomes a star performer. Just when everything is going well, the boy's drunken father shows up, expecting to cash in on his son's success.
Never Trust a Gilly has a stronger-than-usual story about two con artists who blackmail a young circus worker into helping them rob the red ticket wagon.
Daniel in the Lion's Den is the one surviving episode that is set in Beatty's zoo in Fort Lauderdale. A young cage boy who has shown great potential while working with the big cats wants Clyde to take him on as an apprentice. This does not sit well with an older hand (a character who might have been based on Beatty's old assistant trainer Louis Roth.)
The Marvelous Marvins is another "behind the scenes" circus story about two male midgets who are hired by the show to present their specialty aerial act. Trouble starts when the two have a serious falling out over a lovely lady midget who is also with the show.
Oklahoma Hoax uses a rather original story idea: a town which the Beatty show just played reports that an escaped python has been sighted, and blames the circus. Although none of the show's big snakes are AWOL, Clyde and the snake handler go back to investigate. When they arrive, they discovered that, not only has the python been captured, but it is being exhibited in public by the couple that first reported seeing it on the loose.
Cage Boy offers a plot with a mystery angle: Beatty's big cats are being poisoned one by one, and the evidence seems to point to a new cage boy who recently signed on. Another likely candidate is an older cage boy who has it in for the younger hand. (Determining the identity of the culprit will keep you guessing right up to the very end.)
The King of Clowns has an off-beat story about an eccentric old clown who is either a comic genius or mentally deranged. And if Clyde didn't have enough troubles, a series of serious accidents starts to plague the Beatty Circus.
Dangerous Ambition offers a tanbark version of the sorcerer's apprentice: a young cage boy feels that he knows enough to start working Beatty's big cats on his own. Of course, Clyde won't let him, but then, when nobody's around . . .
Canine Courage is the one surviving episode that features a dog based on the real life "Timber," Beatty's pet German shepherd that is mentioned in his 1933 book "The Big Cage."
If you're old enough to remember old time radio drama, these shows will bring back a lot of happy memories. For those of you born after the "golden age- of radio, you're in for a special treat. (If you have to make a long daily commute, pop one of these into your car's CD player and the trip will be over before you know it!) However, be warned! Old radio shows are addictive. Listening to just one is never enough, and before you know it, your television set will be covered with cobwebs and your closet will overflowing with shoe boxes filled with assorted old radio shows on CDs and MP3 discs. Happy listening!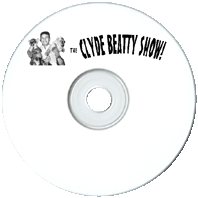 >> Click here for recordings of The Clyde Beatty Show >>
---
ABOUT THE AUTHOR:
Eric Beheim is a life-long radio enthusiast. A former commanding officer of a Naval Reserve Combat Camera unit based in San Diego.
Eric Beheim leads a multi-faceted career as a free-lance writer, professional musician, and owner of his own music and sound project studio.
Born in the first wave of "baby boomers" he grew up with radio and remains a life-long radio enthusiast. His particular interests are collecting news and commentary programs from the late 1930s and early 1940s (including World War II news), and programs that feature performances of operettas and musical theater presentations. Read more about Eric Behiem...